Post by NPAudio on Mar 20, 2023 9:22:23 GMT
This could be a mini M17 with desktop DC power (bypassing battery) and ES9038PRO DAC with a decent amount of power.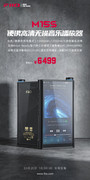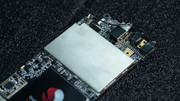 FiiO M15S is officially released!
After more than 3 years since the M15 was released, the M15S will finally meet with you. As a handheld desktop computer, the M15S continues some technical features of the portable desktop computer M17, and maintains a comfortable holding volume close to the M15, and realizes the ideal fusion of portability and high performance in one go.
Surging performance, in one continuous line
As FiiO's new high-end HiFi player, the M15S inherits the technical decentralization of the M17, such as "desktop/portable dual power supply mode", mixed five-speed gain, but there are further optimizations:
The M15S is equipped with FiiO's fully automatic lightweight "DC auxiliary power supply system". When the device automatically recognizes the Type-C fast charging protocol, it can activate the super big ear mode. At this time, the balanced maximum undistorted sustainable output power is as high as 1200mW per The sound channel, such surging performance can easily push all kinds of earplugs and headphones.
Not only that, M15S has an exclusive desktop mode, when the USB is connected to the fast charge, you can choose to enter the desktop mode, at this time the M15S will completely work without the battery, the built-in battery will neither charge nor discharge, which can better protect the battery life.
High-end configuration, full of skills
Since we position the M15S as a "handheld computer", the configuration materials are absolutely unambiguous.
The M15S not only adopts the ES9038PRO full blood version of the eight-core high-performance DAC chip specially designed for desktop devices, which has excellent resolution and restoration, but also configures Qualcomm's flagship QCC5124 Bluetooth chip, which forms a Bluetooth 5.0 dual-chip architecture with Bluetooth transmitter, supporting LDAC/SBC/AAC/aptX/aptX HD and other full-format two-way Bluetooth transmission.
With the support of powerful combination configurations, M15S has six built-in working modes: Roon Ready/Pure Audio/Android/AirPlay/Bluetooth Receiver/USB DAC, which are enough to meet your needs in different scenarios, and can also bring you better sound quality , and a more convenient user experience.
Exquisite design, experience leap
In order to bring you a consistent good experience inside and out, we have made great efforts to polish the internal and external design of the M15S, and try our best to make it as good as possible in terms of heat dissipation, shielding, and volume adjustment.
The M15S uses high-quality materials such as multiple sets of independent metal shields and an independent stainless steel battery compartment, which can quickly and effectively dissipate the heat generated inside the M15S. What's more, M15S also uses low-temperature drift and high-precision film material resistors and capacitors. Even if the device is in a complex working environment, it can still maintain high-energy output, allowing you to listen to the sound of HiFi without worry.
More than that, the M15S also applies a full range of shielding design: high-precision nickel-nickel copper shielding cover is used, heat dissipation auxiliary materials and shielding auxiliary materials are stacked in the shielding cover, and absorbing paper is pasted under the shielding cover. Such crazily piled materials and layers of shielding are just to present pure HiFi music.
It is worth mentioning that M15S is equipped with analog potentiometer knob and button dual volume control mode, with 120 levels of precise volume adjustment, you can make the most convenient control according to different usage scenarios.
DAC: ESS ES9038PRO
SoC: Snapdragon 660
RAM: 4GB
Internal memory: 64GB
OS: Android 10
Display: 5.5 inches 1440 x 720
Battery: 6200mAh
Continuous playback time: Single 10 hours, balance 9 hours (details unknown)
Size: 140 x 80 x 18.9mm
Weight: 345g